Carolyn Leigh.com: Home | About | Contact | Site map | Artist's book toc &gt Portals on Camino de Oeste
Terra Mater Amo by Junardi Armstrong
from Portals on Camino de Oeste
This pamphlet is created from my photographs, graphics, paintings and handmade papers. The papers include: Spanish flax, gampi, abaca and cotton linters.
The images are scanned on an Epson Perfection 1260 and printed on an Epson 860 from an iMac OS 9.2.2.
It is hand bound using archival glues, acid free cotton natural white papers and bristol board.
Portals on Camino de Oeste
Tucson Mountains, Arizona
Sonoran Desert, USA
Junardi Armstrong
Soaring Spirit Artworks and Press
Tucson, AZ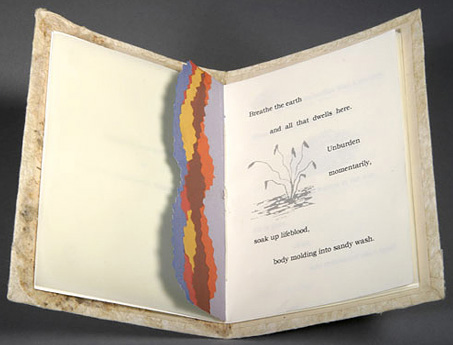 Reviews, exhibitions, collections
Photographs by Kathleen Bober at https://www.kathleenbober.com.
Carolyn Leigh.com: Home | About | Contact | Site map | Artist's book toc | Day of the Dead prints toc | top of page
Copyright © Carolyn Leigh, 2005-2022, P.O. Box 85284, Tucson, AZ 85754-5284 USA
https://www.carolynleigh.com/portals/terramat.htm