Carolyn Leigh.com: Home | About | Contact | Site map | Artist's book toc &gt Portals on Camino de Oeste
Dry Water by Carolyn Leigh
from Portals on Camino de Oeste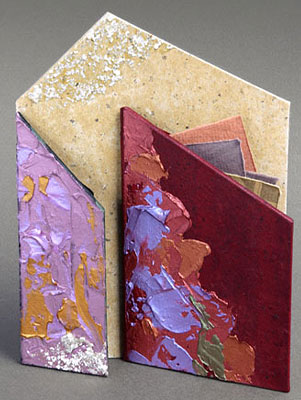 Dry Water integrates my poem and my visual concept into a single sculptured book of the Tucson Mountains. The left peak cover contains pop-up plunge pools representing the mossy remnants of rain. The right peak pages represent a flash flood as it churns down Camino de Oeste Wash.
Dry Water
© Carolyn Leigh, 2004
Portals on Camino de Oeste
Tucson Mountains, Arizona
Sonoran Desert, USA
for Paper Portals Press, 2004
Formatted in Adobe Photoshop 7 on a Macintosh G4. Typeface is Goudy Catalogue BT. Giclée printed on Hahnemuhle Bugra Pastel papers. Cover papers painted with Daniel Smith and Golden acrylics.
Reviews, exhibitions, collections
Photographs by Kathleen Bober at www.kathleenbober.com and Carolyn Leigh at www.carolynleigh.com.
Carolyn Leigh.com: Home | About | Contact | Site map | Artist's book toc | Day of the Dead prints toc | top of page
Copyright © Carolyn Leigh, 2001-2011, P.O. Box 85284, Tucson, AZ 85754-5284 USA
https://www.carolynleigh.com/portals/drywater.htm