Carolyn Leigh.com: Home | About | Contact | Site map | Artist's book toc &gt Portals on Camino de Oeste
Reaching for Bedrock by Curt Dornberg
from Portals on Camino de Oeste
Reaching for Bedrock
Curt Dornberg
Deer's Run Press
for Paper Portals Press
2004
Reaching for Bedrock is electronically printed on brown Bogus and Exact cover with inserts of acetate transparencies. The poem is printed in Papyrus and the citations in Palatino Linotype.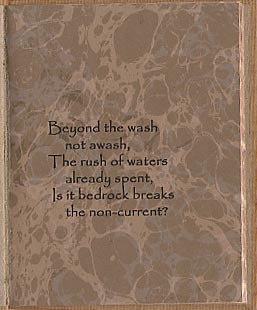 Citations from Lambert Wood, A Geological Sketch of Tucson, Arizona, Portland, Oregon: Metropolitan Press, 1920 (?).
Reviews, exhibitions, collections
Photographs by Kathleen Bober at https://www.kathleenbober.com.
Carolyn Leigh.com: Home | About | Contact | Site map | Artist's book toc | Day of the Dead prints toc | top of page
Copyright © Carolyn Leigh, 2005-2022, P.O. Box 85284, Tucson, AZ 85754-5284 USA
https://www.carolynleigh.com/portals/reaching.htm