Carolyn Leigh.com: Home | About Carolyn Leigh | Contact | Site map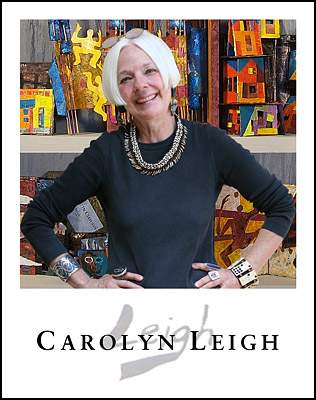 CAROLYN LEIGH - paintings, prints and artist's books
P.O. Box 87768, Tucson, AZ, 85754-7768 USA
CarolynLeighStudios at gmail.com (This link does not work with all browsers.)
Please see the list of my current exhibitions, dealers and art in public collections.
Add to your collection: catalogs of my artist's books, paintings and prints
I work with mixed media in multiple formats. I like intense colors and dynamic forms that pass through the time and space of my art, shape-shifting between figurative and abstract.
My art is represented in numerous public and private collections in the USA, Mexico and the South Pacific.
I am based in Tucson, AZ, US. My husband, Ron Perry, and I are tribal art dealers. We collect in Papua New Guinea, Indonesia and other countries on the Pacific Rim.
I designed our adobe home and studios.
Webmaster: www.CarolynLeigh.com, www.RimJournal.com and www.Art-Pacific.com
Freelance photographer and scientific illustrator, former instructor in Scientific Illustration and Photography, University of Arizona
B.A. in English Literature, Wichita State University, Wichita, KS, graduate work in museum studies at the University of Arizona, Tucson, AZ
Friends who nurtured me
Order my publications from Carolyn Leigh Studios

Art Dealer in the Last Unknown, Ron Perry and New Guinea Art, the early years: 1964 - 1973
New Guinea Tribal Art eGuide

Follow me on Facebook at Carolyn Leigh Studios
Artist's portrait by Susan Pearce.
Carolyn Leigh.com: Home | About | Contact | Site map | top of page
Copyright © Carolyn Leigh, 2001-2022, P.O. Box 87768, Tucson, AZ 85754-7768 USA
https://www.carolynleigh.com/about.htm