Carolyn Leigh.com: Home | About | Contact | Site map | Catalogs | Painting series
Carolyn Leigh: Painting series
I like intense colors and dynamic forms that pass through the time and space of my art. I work in multiple formats. My paintings influence my books and my books sometimes collage on my paintings.
Catalog 1: Mixed media paintings
This group of acrylic paintings relates to my book series. They are mixed media acrylics collaged with papers from recycled acid free books on linen canvas, 30 x 40 x 1.5 inches
Figure 1: Five in the Morning (detail)
Add to your collection: Catalog 1: Mixed media
Add to your collection: Catalog 2: Mixed media diptychs
Catalog 2: The Book Abstract diptychs
The Book Abstract series are mixed media acrylic paintings made from the covers of remandered books. When unsold books are returned to the publisher for credit, the covers are frequently torn off. Diptych paintings are traditionally hinged. I recycle the book covers to the diptych format.
Abstract also means summary, so the two page painting in place of the book's many pages plays on words. A bottle cap rattle adds sound - a voice when it is released from its slipcase and emerges into the light.
Figure 2: Remander 3
The Remander titles reference the dumps where the covers are discarded. New content is created from papers and rusting refuse. Remanders are odd numbered.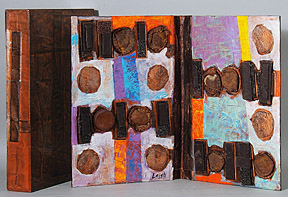 The Cover Story titles reference that the paintings are made from book covers, but also the creation of new stories. The 00||0 binary code implies a cover-up of something. Cover Stories are even numbered.
Figure 3: Cover Story 6
Learn more: current exhibitions, dealers and a list of art in public collections
Carolyn Leigh.com: Home | About | Contact | Site map | Artist's book toc | Day of the Dead prints toc | top of page
Copyright © Carolyn Leigh, 2001-2022, P.O. Box 87768, Tucson, AZ 85754-7768 USA
https://www.carolynleigh.com/artistbk/tocbooks.htm