Carolyn Leigh.com: Home | About | Contact | Site map | Day of the Dead skeleton prints and more > Day of the Dead (Día de los Muertos) calaveras: the history of skeleton prints in Mexico
Day of the Dead (Día de los Muertos) calaveras: the history of skeleton prints in Mexico
buy Day of the Dead prints from CarolynLeigh.com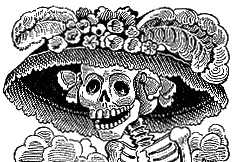 Prints of skeletons doing everyday activities are called calaveras in Mexico. Calavera means skull in Spanish and by extension, skeleton.
Medieval art and early book illustrations portrayed active skeletons, but they were usually bare-boned. Printer and publisher Antonio Vanegas Arroyo employed Manuel Manilla and later, José Guadalupe Posada, to create engravings and etchings to illustrate his company's calaveras broadsheets during the time of the Porfiriato, the government of Porfirio Díaz (1876 -1911). This was a period of both great wealth and great poverty in Mexico.
Figure 1: La Catrina, engraving by José Guadalupe Posada
José Guadalupe Posada took his skeletons, dressed them in contemporary clothes and placed them in everyday scenes that portrayed the lives and souls of the Mexican people. His most popular engraving is still La Catrina, a servant girl dressed in her wealthy mistress's cast-off hat and dress.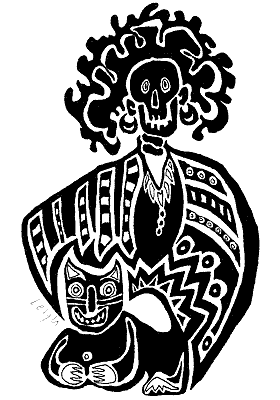 Death is often portrayed as a woman (la muerte or la calaca) in Mexico. Death may wear an old-fashion hat or dance in blue jeans. She is portrayed not as fearsome, but as beloved and fun.
Figure 2: Woman, Shawl, Cat, Day of the Dead skeleton print by Carolyn Leigh: "My figures don't represent the dead as much as the living with some of their bones revealed."
Calaveras used humorous verse to laugh at the follies of the living. Some were based on popular songs. Others were mocking obituaries supposedly written by the dead for the living, perhaps for a politician.
During Todos Santos, workers would hand their customers a rhyming calaveras, perhaps illustrating their profession, and expect a small donation in return. Children could ask for coins, which were also called calaveras, and use the money to buy toys and sweets.
Quote from María Antonieta Sánchez de Escamilla:
Sometimes a child feels squeamish about death


and admits to fearing skulls and skeletons.

When this happens, I tell my pupils to touch themselves.
"Why are you afraid?", I ask,
"when each of you owns a skull and skeleton.
We all carry death within us."

They feel themselves and they say: "Yes it's true,
we too are made of bones."
from The Skeleton at the Feast, the Day of the Dead in Mexico, p. 119, by Elizabeth Carmichael and Chloë Sayer. Published 1991 by the University of Texas Press in co-operation with British Museum Press, ISBN 0-292-77658-6. This is an excellent book on Day of the Dead and is the source for much of the information on this page.
buy Day of the Dead prints from CarolynLeigh.com
Carolyn Leigh.com: Home | About | Contact | Site map | Day of the Dead skeleton prints and more | top of page
Copyright © Carolyn Leigh, 2001-2022, P.O. Box 87768, Tucson, AZ 85754-7768 USA
https://www.carolynleigh.com/calaveras/history.htm